Our Collective Community
We are a collective group of local Massage Therapists,
Bodyworkers & Yoga Practitioners with a passion for facilitating health & well-being into the lives of every person we touch. We hold ourselves to a high standard of education and excellence in what we offer.
Maureen Slayton, Founder
Board Certified Massage Therapist, Certified Athletic Trainer, VT Registered MT
Sage Therapeutic Massage, LLC
(802) 272-5126
maslayton@comcast.net
Maureen has been studying the body for 23 years. Her journey began at Springfield College where she obtained her Bachelor's Degree in Athletic Training. It was there that she learned about musculoskeletal injuries and the body's amazing ability to HEAL. This knowledge coupled with her passion to help others, led her to Massage Therapy. Maureen holds an Associates Degree in Myofascial Therapy. She primarily specializes in Rehabilitative Massage. Her work experience includes Head Athletic Trainer at Springfield Technical Community College, and Athletic Trainer at AIC. Her extensive resume includes teaching Deep Tissue Techniques, Muscle Structure & Function and Musculoskeletal Pathologies at Springfield Technical Community College as well Kripalu School of Massage in Lenox, Massachusetts and most recently Green Mountain Massage School in Hyde Park, VT. She loves living in Vermont with her husband and two children.
Katie Zettek
Board Certified Massage Therapist, VT Registered MT
(207) 577-4465
kzettek@yahoo.com
My path as a massage therapist began over 15 years ago when I attended the Muscular Therapy Institute, in Watertown, MA. Muscular Therapy incorporates Swedish and Deep Tissue techniques. I am continuously drawn to learning techniques from teachers and modalities that effectively address and weave together the benefits of relaxation and therapeutic manual therapy – including CranioSacral Therapy, Lymphatic work, cupping, hot stones, Neuromuscular Therapy, orthopedic massage, maternity massage, Reflexology and fascial work.
I strive to offer a safe space and customized massage sessions that address pain reduction, increased awareness and mobility, as well as relaxation and stress reduction. When we deeply listen to stagnation within ourselves, a whisper of movement can often be a beneficial support to our whole system.
I draw inspiration from meditation, traveling, spending time in nature and rubbing my beagle's belly. I am grateful and humbled to be part of this wellness team. Please feel free to reach out with any questions and I look forward to working with you.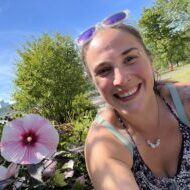 Morgan Brackett
(802) 793-0504
 morganbrackett87@gmail.com
"A single act of kindness throws out roots in all directions, and the roots spring up and make new trees."
– Amelia Earhart
My journey to energy and body work began more than a decade ago. I studied Reiki in Burlington VT completing Reiki I and II. Over 4 years ago I started working at a Chiropractic office in Montpelier VT where I learned about the muscular and skeletal systems in more depth. It was there that I was encouraged to pursue my passion to help others through Massage Therapy and Reiki. I worked with another massage therapist to learn about their techniques. I started taking courses to gain further knowledge of holistic massage, and myofascial cupping. I was drawn to expand my awareness of Reiki which lead me to an online Reiki Master training that included revisiting Reiki I and II. I believe that self care and balance is important for everything in existence. I take a holistic approach in my Massage and Reiki techniques. Self care is different for everyone. Come join me for some relaxation, energetic balance, and healing.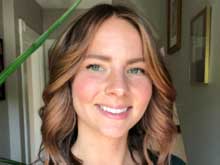 Ellen Heitmann
(786) 566 – 1334
ellenmassage802@gmail.com
Massage allows me to connect with my body and others without words. I love that because I am a slow and thoughtful person. Words are often misconstrued but, through the body I get to be in touch with something real, expressed in impressions, emotions, and intuition. I have both a fascination and a great love for the body. I enjoy being physical and I respect all the body does and the wisdom it holds. With massage I experience a version of myself that feels true and I hope to share that with my clients. In this state of coherence perhaps the possibilities for our lives expand, maybe we can make better decisions, or maybe we can appreciate our world a little better. Bodywork is a beautiful gateway into a deeper experience.
Nicoleta Gudasz
Acupuncturist
802-730-4092
nicole.gudasz@gmail.com
Nicoleta has been practicing acupuncture since 2005 when she graduated from Tai Sophia Institute in Maryland with a Master's Degree in Acupuncture. In her work, she incorporates various acupuncture styles and techniques such as Five Element Acupuncture, TCM, Auricular and NADA (Detoxification)Acupuncture alongside with other healing methods such as Aromatherapy, Cupping and GuaSha.
When talking about acupuncture, Nicoleta says: "I believe our bodies have an inherent power to heal themselves, and through acupuncture we can enhance this innate ability to self-regulate and heal from within. With my treatments I strive to create a state of deep relaxation and holistic wellness so people could have more ease, comfort and joy into their lives.
My journey in life is guided by one of my favorite mottos "never stop wondering" and I find inspiration in Nature, where I spend a lots of time all year around observing the changes of the seasons. Also, I love spending time with my family, my husband and my two exuberant boys.
I am very excited to join the warm and caring group of practitioners at Sage Collective and I hope that my services can leap across cultural, linguistic and medical paradigms to reach people and their needs. This summer I also joined the wonderful team at Sana Rehabilitation Center in Stowe, where I provide individualized treatments for addictions.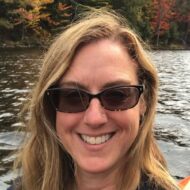 Heidi Dwyer
Yoga Instructor
(802) 793-5819
dwire25@gmail.com
I am an RYT-200 Yoga Instructor currently teaching Gentle Flow Yoga, Chair Yoga, Restorative Yoga, Private Yoga Lessons, and organizing and facilitating Full Moon Circles.
"Honor the truth in your body." This phrase guides my approach to teaching yoga. I believe that every "body" should be celebrated and that everyone can practice yoga. My goal is to meet students "where they are" by providing an open, caring, non-judgmental, and loving space in which to explore movement through safe alignment, maintaining balance in the breath, and building strength.
My personal love of yoga and my experience with the self-care that yoga brought into my life began over a decade ago and it continues to evolve and grow. My passions have always involved teaching and human service. I am a former gymnastics studio owner, para-educator, swim instructor, and women's shelter volunteer. I enjoy spending time outdoors: kayaking, hiking, snowshoeing, and playing in my flowerbeds.